Frome Congress
Organised by the Frome Chess Club, the annual Frome Congress is one of the most popular and friendly Congresses in the South-West, regularly attracting between 150 and 200 entrants.
The Selwood Academy venue has comfortable playing conditions. The restaurant, bookstall and analysis areas are separate from the playing areas and there is ample (free) car parking.
The Congress is part of the Tradewise Grand Prix and includes the Somerset Championships.
The Open is FIDE-rated and part of the British Championships Qualifying Grand Prix.
Notice of Cancellation
The 2020 Frome Chess Congress due to take place on May 15 – 17 has been cancelled as a precaution against the Covid-19 virus and to end all uncertainty regarding the event.
The organisers are devastated to have to make this decision but believe that this course of action is in the best interests of participants.
Entry fees already paid will be refunded in full.
For on-line entries, refunds will be made via PayPal to whichever debit/credit card or PayPal account funded the original payment.
Fees paid by cheque will be refunded by post. This process is expected to take a few days.
We sincerely apologize for any inconvenience this may cause and look forward to greeting you again in 2021.

16/03/2020
The 31st FROME CHESS CONGRESS
May 15th - 17th 2020
Selwood Academy, Berkley Road, Frome, Somerset BA11 2EF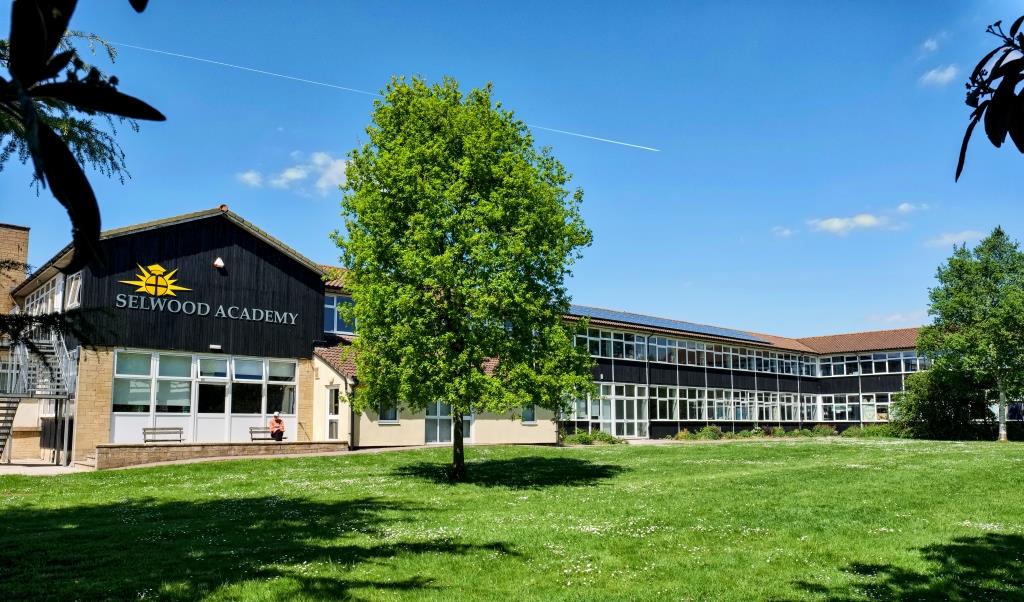 Selwood Academy -
(photo by Brendan O'Gorman 2016)
Tournaments
Four 5-round Swiss tournaments with 4-hour playing sessions


Section




Grade Limit




Entry Fee*

(not including any applicable ECF fee or Junior discount)

Prizes



Open
(FIDE-rated)

None

£32


First =£200, Second = £150, Third = £100
Denys Bonner trophy

Major

Under 165

£23

First =£150, Second = £125, Third = £90
Leon York memorial trophy

Intermediate

Under 140

£23

First =£150, Second = £125, Third = £90
Roy Hossell trophy

Minor

Under 110

£23

First =£150, Second = £125, Third = £90
Cyril Chapman and Jean Mackereth (for ungraded players) trophies

* For late entries after 1st May add £3

ECF Fees
In the Open section there is no charge for Gold or Platinum ECF members.
Otherwise:
FIDE registered players with a non-English affiliation £1.50. All other players £11

In all other sections there is no charge for Silver, Gold or Platinum ECF members. Otherwise £9


Junior Discount
There is a £5 discount for all Juniors under 18 on 1st September 2019.

Trophies and Cash Prizes
Somerset trophies are awarded to the highest placed Somerset player in each section.

Dependent on entry, there will be at least one grading prize in each section.
Team prize of £50 for genuine club teams of 4 players.
Except in the Open tournament, no ungraded player may win higher than the value of the third prize.


Playing Schedule
Friday

18.50 Opening
19.00 Round 1


Saturday

10.00 Round 2
15.00 Round 3


Sunday

10.00 Round 4
15.00 Round 5

Players will be defaulted if not present within 30 minutes of start of round.

Rate of Play
All Sections: 90 minutes plus 30 seconds per move from start of game.

Byes
A half-point bye may be claimed in any one of Rounds 1,2,3 or 4.

Bookstall
Bookstall and sets supplied by Chess Direct
Refreshments
Hot and cold drinks and cooked meals will be available at the venue.
Catering by Hackett's Outside Catering Ltd
Grading Information
The January 2020 ECF standardplay grading list will be used.
It is a condition of entry that all entrants agree that their results will be forwarded to the ECF for grading.
Conditions of Entry and Competition Rules
The full Conditions of Entry and Competition Rules are here.


2019 Photos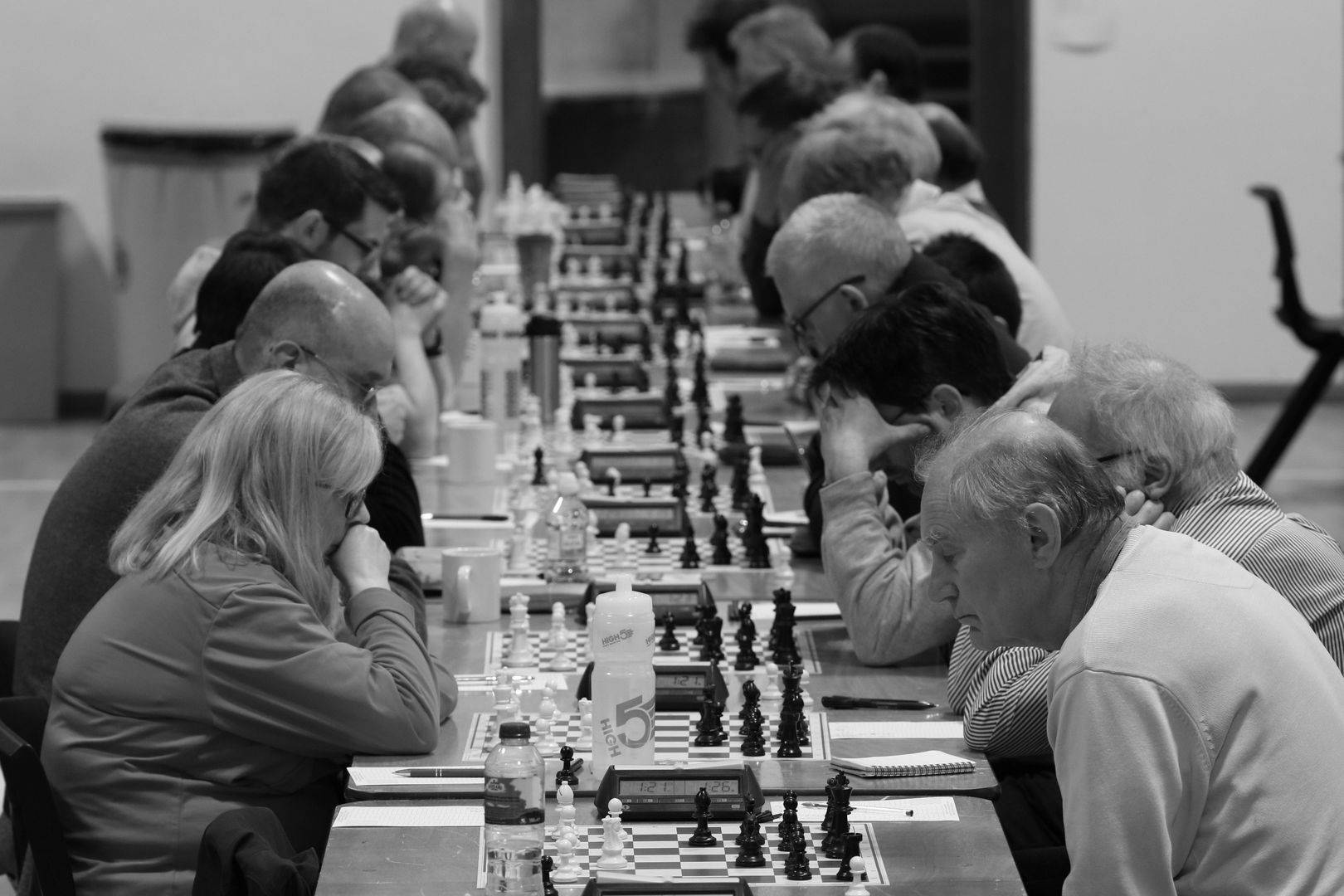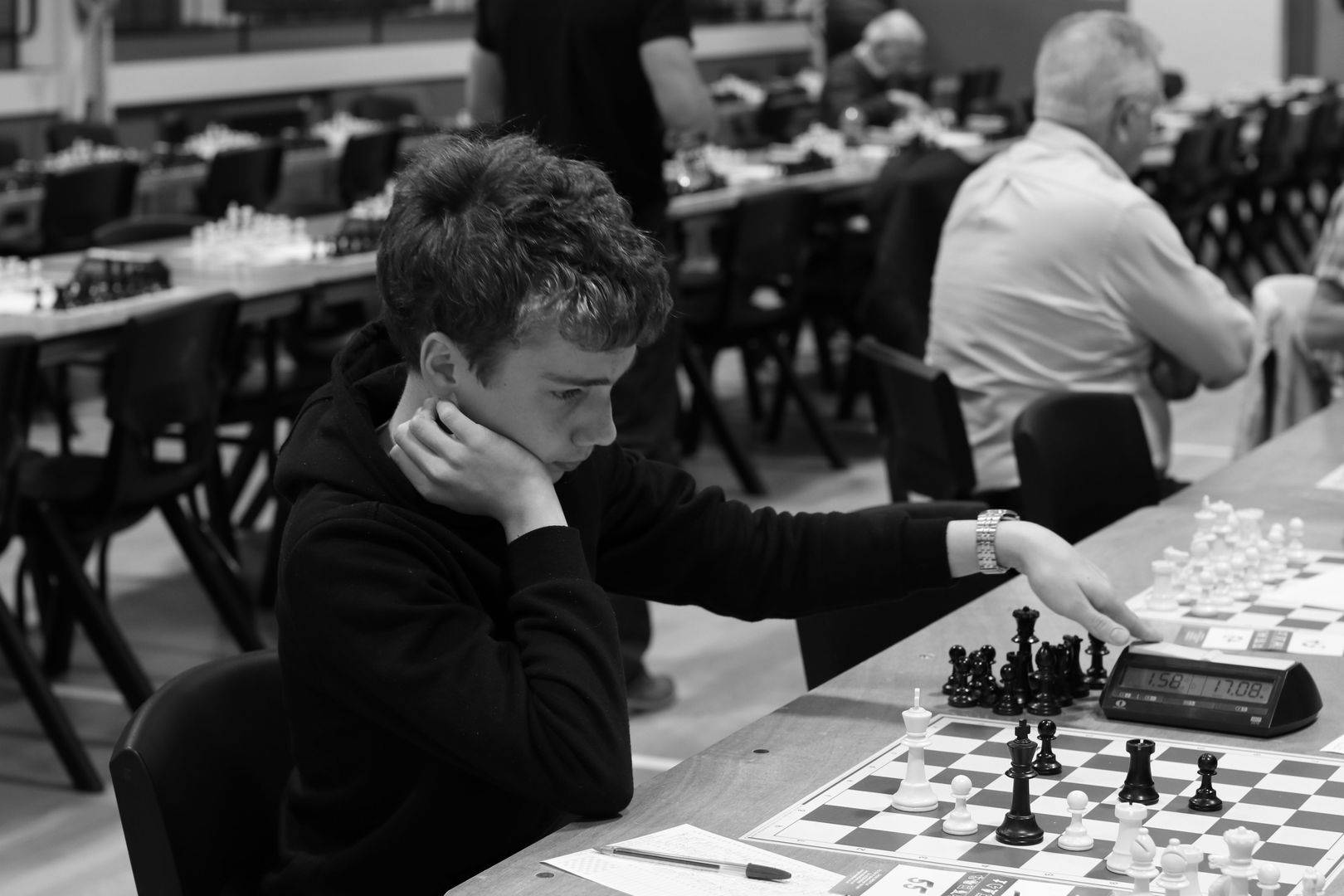 2019 Congress in Play


| | | | | |
| --- | --- | --- | --- | --- |
| George Miller (on right) with Denys Bonner Trophy | Tim Woodward (on left) with Leon York Trophy | Theo Kirby (on right)with Cyril Chapman Trophy | Matt Goatcher with Roy Hossell Trophy | Brendan Gibbs (on right) with Jean Mackereth Trophy |
Photos by Chris Lamming (2019)