Games
Andrew Gregory (Bath) won the Somerset Championshipship at the 2017 frome Congress. Given below is his fourth round game against Jeremy Menadue (Carrick).
Please continue to send in games. These can be anything with a local interest. Interesting games from any Division of the Somerset League are especially welcome.

Previous games shown here can be found in the Games Archive.
_______________________________________________________
Chess Puzzle of the Day
Puzzle from chessvideos.tv

(Click on the image below to solve the puzzle)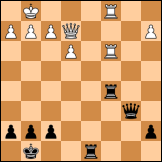 Chess Quote of the Day
________________________________________________________
Latest Somerset News Headlines

Latest Somerset League results, fixtures and current league tables
20/05/2017 - Somerset League. Winners in the 2016/2017 season are as follows: Division 1 - Yeovil; Division 2 East - Trowbridge; Division 2 West - Sedgemoor; Division 3 East - Frome; Division 3 West - 4-way tie between Weston-super-Mare, Sedgeless, Glastonbury and Yeovil.
15/05/2017 - 28th Frome Chess Congress. The 2017 Congress was one of the most successful ever.. There was an exceptionally large entry of 188 with record numbers in the Minor and Intermediate sections. Particularly pleasing was the relatively large number of juniors of both sexes, many of whom were playing their first ever standard play tournament. A full report can be found on the Congress Home Page. Congratulations to Andy Gregory the new Somerset Champion.
10/05/2017 - SCCA AGM 05/06/2017. The Agenda for the 122nd AGM is here. The AGM is on the 5th June at The Admiralís Landing, Anson Way, Bridgwater TA6 3EX. Item 11 is approval of updated SCCA Rules of Association.
04/04/2017 - Junior Chess. There was an excellent performance by Somerset juniors in the Wiltshire and West of England Junior Championships. Among many good performances were the following:
West of England U16 Champion: Oliver Howell (Millfield)
WoE U18 Girls' Champion: Zoe Varney (Millfield)
WoE U14 Champion: Max Walker (Churchill Academy)
Minor Section, 1st Place: Nicholas Cunliffe (Wells)
WoE U9 Champion: Matthew Timbrell
U9 Controller's Prize: Ernie Fields
Saturday Intermediate, 3rd Place & Controller's Prize: John Skeen (Churchill Academy)
04/04/2017 - Somerset Cup. Trowbridge won the Somerset Cup beating Glastonbury 4.5-3.5.
15/02/2017 - Somerset Cup. The final of the Somerset Cup will be played between Glastonbury and Trowbridge on 6th March.
15/02/2017 - Junior Chess. Somerset Girls had a good day in Swindon on Sunday 12th. The Under 18s beat Berkshire and Wiltshire with 10 points out of a maximum of 12 whilst the Under 11s beat Wiltshire 10.5-7.5.
10/02/2017 - Junior Chess. The final Grand Prix of the season was held last weekend in Frome with the biggest entry for several years. Competition was very tight in all sections but the winners all remained unbeaten. Here are the results. U7s and U8s; U9s; U10s; U14s.
31/01/2017 -Junior Chess. Read Chris Strong's report on another excellent day in the Somerset Junior Grand Prix at St. Saviours School .
29/01/2017 - Somerset's recent match against Cornwall resulted in a hard fought draw even though Somerset were out-graded on the majority of boards. Full results are here.
22/01/2017 - Frome Congress 12th - 14th May: Details and entry forms are now on the Congress home page.
18/01/2017 - Junior chess. On Saturday our juniors played for the Somerset Chess Team in the Wales and West Jamboree. County teams from all over descended on Chepstow for the annual competition. The U14s and U9s won their sections with the U11s coming a very close second. The standard overall was incredibly high with a large number of International players on show. For more details see Chris Strong's full report.
18/12/2016 - Junior chess. Congratulations to Fiona Thet for receiving the Brian Kerr award for Girlís Chess from Chess in Schools and Communities. Fiona is one of the top girls in Somerset and has won this award for her enthusiasm and success in chess. CSC is the main charity for teaching chess in primary schools.
15/12/2016 - Junior chess. An excellent tournament was held at Peasedown St. John on 10th December. Read Chris Strong's report here.
08/12/2016 - Ben Edgell's report on the October ECF AGM can be read here.
For more on these and previous news items see the news page.
_____________________________________________________________________________________________
Upcoming Tournaments in the Region
28th Frome Congress May 12 - May 14
Selwood Academy, Berkley Road, Frome, Somerset BA11 2EF
Web-site: Frome Chess Congress

49th Cotswold Chess Congress May 27 - 29
The Kings School, Gloucester GL1 2BG
Web-site: Cotswold Chess Congress