Upcoming Events in the Region
September 2nd - 8th. The 68thPaignton Congress, Livermead House, Torquay. Details and on-line entry.
September 15th. WECU Jamboree, West Hill Village Hall near Exeter. Post Code EX11 1UQ
_______________________________________________________
Games
Here is another game from the recent Frome Congress, this time from the Major section. At first sight there is nothing particularly special about the game until one notices that the player with the Black pieces is only ten years old and the youngest ever player in the 29-year history of the Frome Major. The player with the white pieces is the veteran Tim Woodward, a two-times winner of the Section.
Please send in games. These can be anything with a local interest. Interesting games from any Division of the Somerset League are especially welcome.

Previous games shown here can be found in the Games Archive.
_______________________________________________________
Chess Puzzle of the Day
Puzzle from chessvideos.tv

(Click on the image below to solve the puzzle)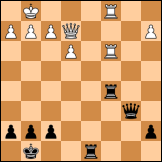 Chess Quote of the Day
________________________________________________________
Latest Somerset News Headlines

Latest Somerset League results, fixtures and current League tables
19/07/2018 - Jon Underwood from Devon points out that next season will be the 100th time the County Championships have been contested (more than 100 years old but there were some wars etc...). It would be very sad if this is the year that Somerset drop out of the Championships for want of a match captain. Is there any Somerset player willing to take on this role? As noted below (07/06/2018) your webmaster can help anyone interested in taking on this post by supplying player contact details.
07/06/2018 - Your Results Officer and Webmaster would like to step down from both roles at the 2019 AGM. He is of course willing to provide any necessary help, training and on-going support for anyone interested in taking on either role. Contact Gerry for more details.
07/06/2018 - The post of Somerset match captain is currently vacant. This post is extremely important and needs to be filled urgently if Somerset are to field a County team next season. The first County match is the Jamboree on 15th September. Your webmaster can help anyone interested in taking on this post by supplying player contact details.
07/06/2018 - At the 2018 SCCA AGM held on the 4th June the following decisions were made: a) Quick-play finishes are no longer mandatory and clubs may agree an alternative time control, e.g. one with 10 second increments as used in the Bristol League. b) The default time control was changed from 15 minute quick-play finish to a 90 minute per game 'guillotine' finish. c) The default time, i.e. the elapsed time before a game may be declared lost by default in the event of a player not turning up, was set to 30 minutes. d) In Divisions 2 and 3 the restriction that a player may not play for more than one team in the same Division was changed to 'no player may play for more than one club'. (The purpose of the latter is to help clubs field teams where otherwise they may have difficulties through shortage of players.) Not all of these changes are uncontroversial.
24/05/2018 - Agenda and Proposals for the SCCA AGM are now available. Agenda, Proposal 1, Proposal 2, Proposal 3
24/05/2018 - The games from the Frome Open are now available to view.
20/05/2018 - The 29th Frome Congress was held on the weekend of May 18th to 20th. For a report on this very successful event see the Congress Home Page.
28/04/2018 - In the final County match of the season, Somerset defeated a strong Gloucestershire side 8.5 - 7.5 today. Full results here.
28/04/2018 - Congratulations to Somerset League players Kevin Paine, Chris Lamming, Chris Purry, Matthew Turner and Oliver Howell on gaining the Level 1 ECF Arbiter qualification at the ECF Course held at Millfield School in March.
08/04/2018 - Somerset League. Congratulations to Millfield on winning Division 1. (Although Yeovil are still theoretically able to catch them on points, Millfield would win on tie-break.)
26/03/2018 - Somerset League. Congratulations to Trowbridge on winning Division 2 East.
10/03/2018 - Somerset League. Congratulations to Yeovil on winning the Somerset Cup and to Bath for winning Division 3 East.
04/03/2018 - Bristol Spring Congress. Sadly the Congress this weekend had to be cancelled because of the adverse weather conditions and the consequent closure of the School grounds.
28/02/2018 - WECU County Championship. Because of the adverse weather conditions the match against Gloucestershire on 3rd March has been postponed until 28th April.
28/02/2018 - The final of the Somerset Cup will be between Yeovil and Glastonbury on 7th March. Glastonbury defeated cup holders Trowbridge on tie-break in the previous round, but Trowbridge deserve special commendation for the sporting way they gave up home advantage to play at Glastonbury, thereby enabling their opponents to field a team.
21/01/2018 - WECU County Championship.Somerset won a tense match 9 - 7 against Cornwall yesterday, with the match result not being decided until the fifteenth game to finish. Full details and games.
15/01/2018 - ECF Arbiters Course. There will be an ECF Arbiters course held at Millfield School during the weekend of March 10-11. Full details are here. This is an excellent opportunity for any Somerset player interested in gaining an Arbiter's qualification.
27/11/2017 - In the Somerset v Devon County match on Saturday Somerset's first team came agonisingly close to pulling off a surprise win against a strong Devon team. Somerset's top boards scored 4-0 against evenly matched opponents whilst the middle order held Devon to a string of draws despite being outgraded by 20 points or more. However, this grade difference took its toll on the lower boards. The match finished 7.5-8.5. The Division 2 match was won convincingly by Devon 8.5-3.5. Full results and Division 1 games.
16/11/2017 -The 2018 Frome Congress will be held on the weekend of 18-20 May 2018. Details are on the Congress home page. For the first time all sections will be using digital clocks with an incremental time control (90 minutes plus 30 seconds per move from start of game).
For more on these and previous news items see the news page.
_____________________________________________________________________________________________